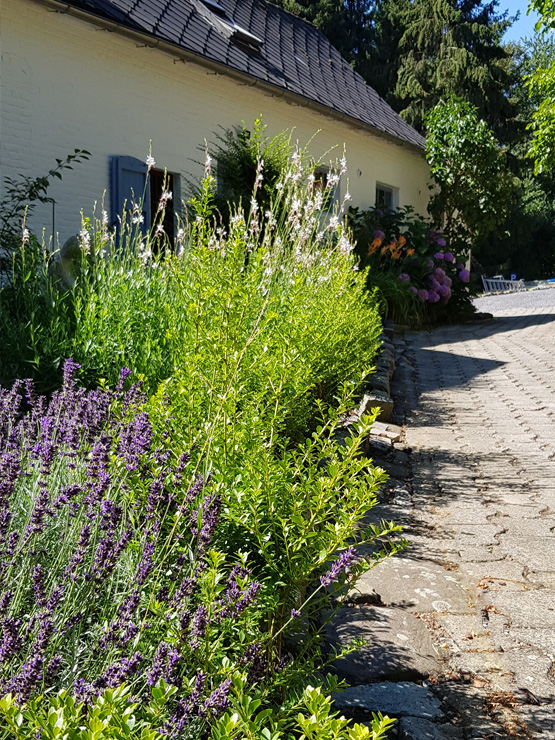 From hills to valleys and breathtaking views
The holiday home is located on the hillside to the Hoppebos, the heart of the natural park "Parc Naturel du Pays des Collines, which covers 25.000 hectares.
The holiday home is easily accessible by car. The region "Le Pays de Collines » is located between Lille (France) and Brussels.
From Ghent: follow the N60 to Ronse, take the N8 to Brakel. At 10 km outside Ronse, at the top the Ninoofsesteenweg (at a bus center) turn right to Flobecq/La Houppe.
From Brussels: follow the E429 to the exit of Lessines (just behind Total gas station). Follow the direction Lessines/Flobecq. At the church of Flobecq, take right, direction La Houppe.
The Pays des Collines or "Hill Country" consist of low wooded hills rising over the low plateau of Hainaut Province and Flanders and gives an unique panorama.
These gentle hills beckon you on to discovers a gorgeous and diversified natural region, which is greatly appreciated by walkers and cyclers.
Each season magnifies this beautiful nature, you will be overwhelmed by the smell of bilberries, ferns, bluebells or hay drying on the meadows. There are plenty options to choose form, walking, cycling, mountain biking, horse riding…
Mont de Rose makes the ideal location for exploring both Flanders and Wallonia: Ronse, Brakel, Oudenaarde, Ghent, Tournai, Lessines, Brussels,…are all accessible within 1 hour.